Members Car and Cash Draw
For only €2.00 per month you could drive away in a new car or win a substantial cash prize. (€24 for 12 months entry - €12 is deducted twice a year - in January and July).
How do I enter the draw? Simply complete the application form and return it any of our offices for processing or alternatively complete the form below and you are entered straight away. Draw terms and conditions apply.
Online Application Form
Rules for Member's Draw
The fee of €2.00 per month will be deducted in advance from the member's shares half yearly thus €12.00 will be deducted twice per year. The draws will take place for the months of June and December. All monies will be deducted on the week the draw will take place.
The Draw will commence when sufficient member's participate and will continue half yearly from then on or until the Board of Directors of Killarney Credit Union Ltd deem otherwise.
The Board shall have absolute discretion in this matter. In the event that insuffi¬cient members subscribe to the draw, it may be suspended, amended or discontinued at the discretion of the Board of Directors. Members will be notified.
It is the member's responsibility to ensure that sufficient funds are in place at the relevant time to enable their entry to be included. The Credit Union has no obligation to notify members with insufficient funds in their accounts.
Participation in the draw is limited to eligible members of Killarney Credit Union who are 18 years of age or over on or before the draw date.
No officer of the Credit Union can enter the draw.
Members can elect to participate in the draw only if the signed authorisation is received at least 1 week before the draw will take place.
Entry will be limited to one per person. A register of entrants will be maintained at the credit union head office at Beech Road.
Winners names and photos will be displayed in the credit union offices, be published on the website killarneycu.ie and may appear in credit union related publications and the local media.
Winners or their representatives will be asked to attend a public photo shoot once consent is given (Unless circumstances don't allow other contact may suffice once the CEO & Risk/ Compliance Officer are informed).
Membership of the draw must be completed prior to participation and no entry is valid unless full fees are paid.
The draw must be self financing and non-profit making and all prize money to be paid out leaving the car draw account empty.
All legitimate expenses and overheads relating to the setting up and operation of the draw will be borne by the draw fund.
The Board of Directors reserves the right to withhold prizes to members who are in arrears.
Killarney Credit Union has the right to exclude admission to the members draw in certain circumstances. Killarney Credit Union has also the right to cease deductions from a members account into the members draw.
Members who do NOT wish to remain in the draw MUST notify the Credit Union in writing or by email of their intention.
The make, type and colour of the car will be at the sole discretion of the Credit Union. The Credit Union will not enter negotiations with the supplier of the car on the behalf of the member. Cash will not be given in lieu of car by the Credit Union.
The Board, Sta and Volunteers of the Credit Union will not be liable for any defects, or otherwise that may be found in the vehicle supplied. Cars supplied will be subject to the normal warranty issued by the manufacturers.
Financial accounts at each year end will be audited and presented in the annual report.
Internal audit also provide reviews on the draw.
All draws will be held in the offices of the Killarney Credit Union or other public location, under the supervision of the CEO or Risk/ Compliance Officer and either a member of An Garda Siochana or a Solicitor.
Prize presentations will be held at locations as determined by the Board of Directors.
The decision of the Board of Directors of Killarney Credit Union Ltd concerning the foregoing rules or any matter arising from the half yearly draw will be final and not subject to appeal.
Previous Winners
January 2022
Congratulations to Bernadette Murphy from Valentia who won a brand new Nissan Juke in the Killarney Credit Union members draw. The cash prize winners were Anna Marie Fleming, Miriam O'Sullivan, Margaret O'Connell, Stella Randles, Maureen Purser, Claire Kiely, Nora Mary Ring, Helen O'Sullivan, Margaret Moore & Gerard Kearney.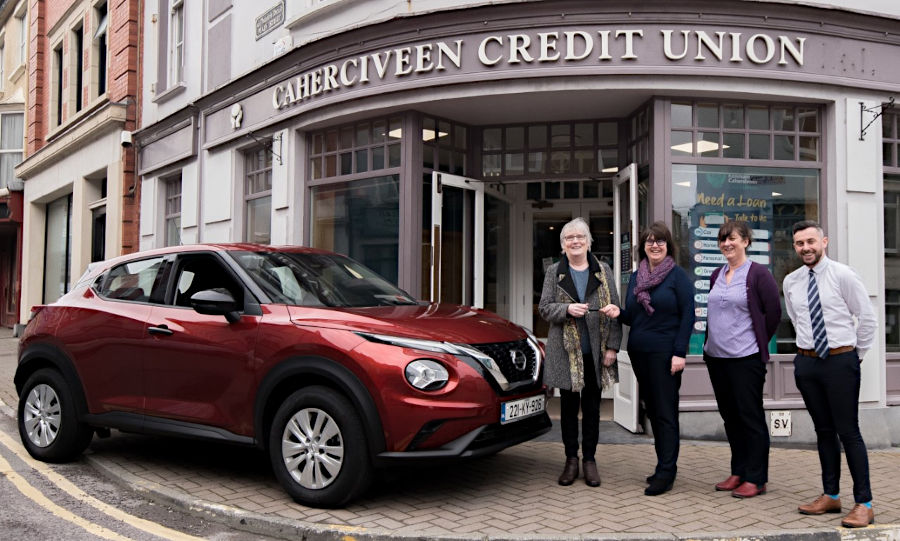 July 2021
Congratulations to John Knightly from Sneem who won a Ford Puma Titanium in our recent Car & Cash Draw. The cash prize winners were Triona O'Connor, Joseph O'Doherty, Michael Fleming, Helen O'Sullivan, James Kissane, Collette & Eithne Willock, Mary O'Leary, Noreen Moriarty O'Sullivan, Geraldine & Gerard O'Mahony, Cecelia Ring, Sinead Buckley & Michael McCarthy.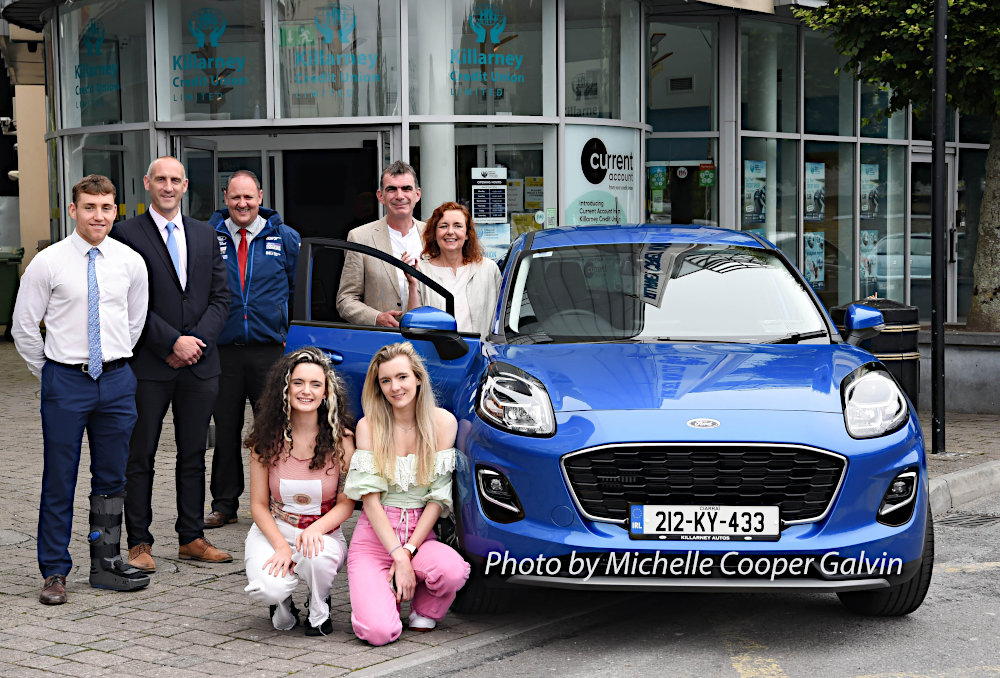 January 2021
Congratulations to our January 2021 Car draw winners Mary O' Connor and Colin House! Best of luck with your new motor!
The cash prize winners were Eileen Daly, Maria Cionelo, Mary & Patrick O'Keeffe, Mary McCarthy, Mary O'Connor, Daniel J Doona, Elizabeth Crosbie, Mohd Rezaul, Michael J Heavy, Joan & John Culloty & Marie Healy.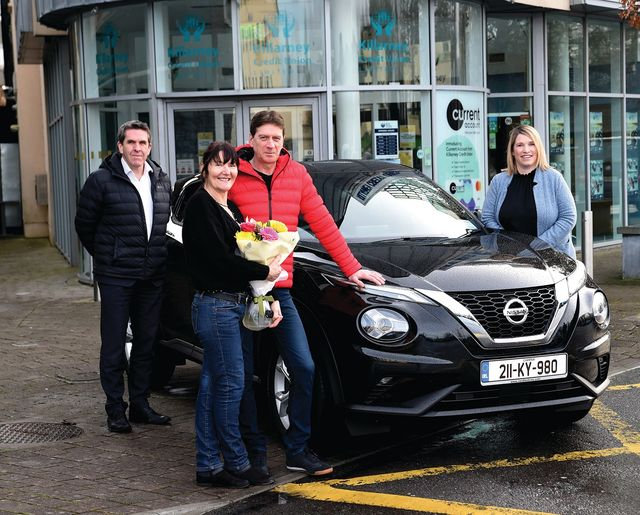 July 2020
Mairead Courtney from Beaufort accepting the keys of her new Toyota Yaris from Mark Murphy, CEO Killarney Credit Union. The 13 cash prize winners were (in no particular order) Paul McCarthy, Margaret Kelliher, Karina Mulchinock, Dermot Tuohy, Denise McSweeney, Tim Moriarty, Delores O'Callaghan, Mary O'Sullivan, Josephine Cronin, Anthony McGuiness, Julie Payne, Miriam O'Sullivan, Michael O'Keeffe.
January 2020
Susan O Sullivan from Woodlawn, Killarney picking up her keys for her new car.
The 14 cash prizes winner are (in no particular order) Donie O Doherty, Lillian McCrae, Geraldine Gleeson, James Daly, Kathleen Coen, Barry Kelleher, Carmel Cahill, Thomas Lynch, Denis Doona, Eileen O Callaghan, Donal O Riordan, Paul O Rourke, Noreen Murphy & Ann Murphy.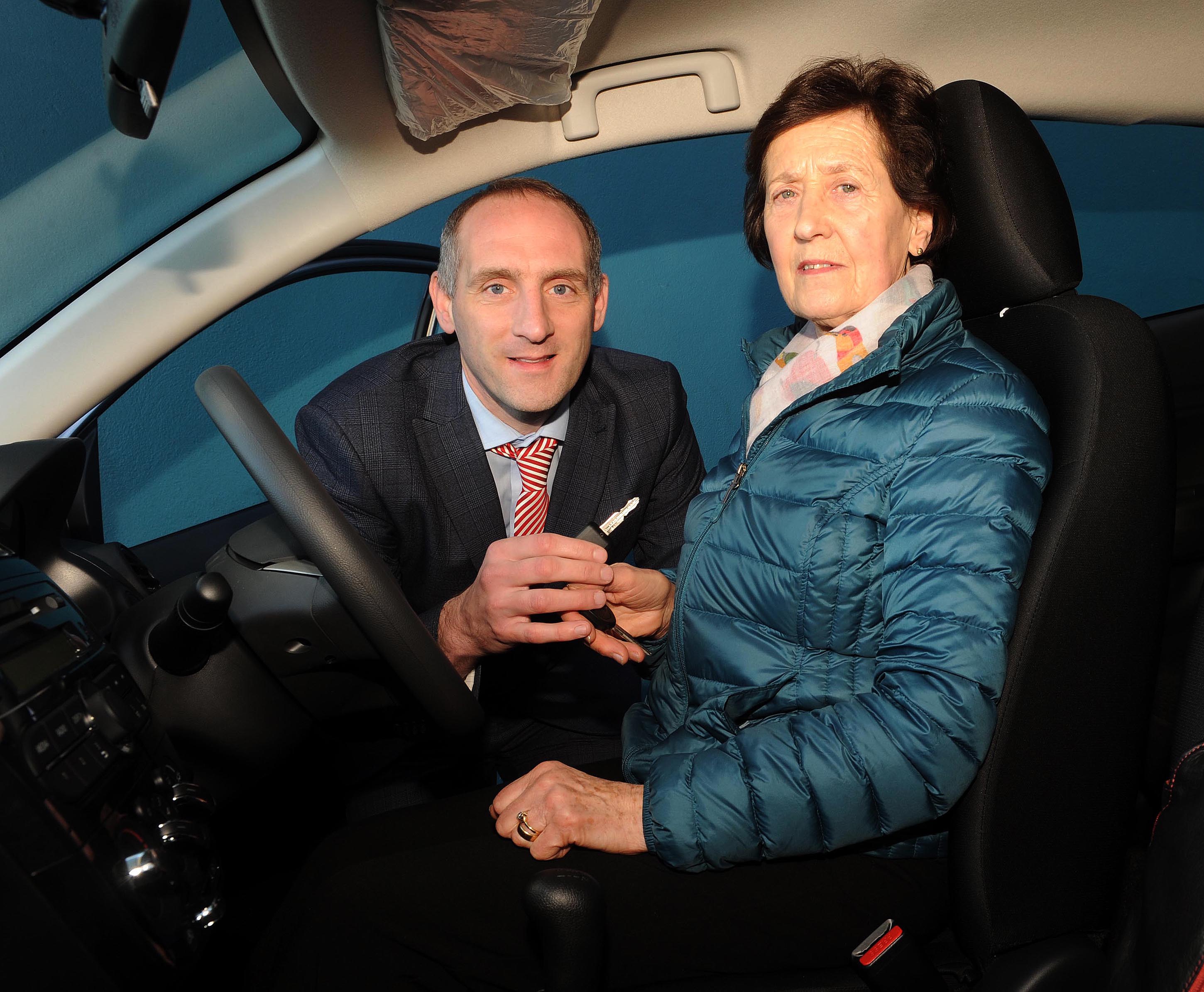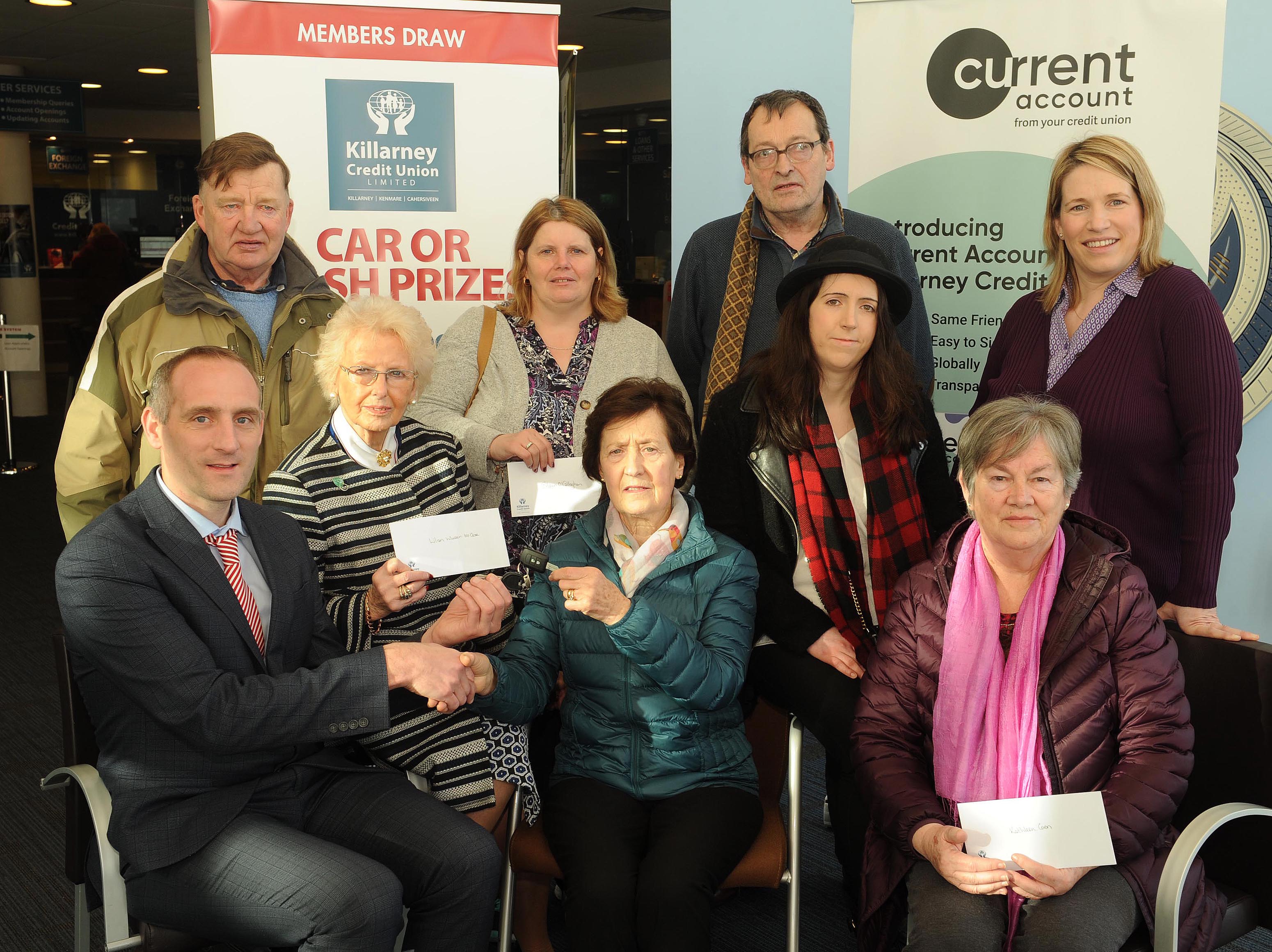 The 14 cash prize winners were Donie O Doherty, Lillian McCrae, Geraldine Gleeson, James Daly, Kathleen Coen, Barry Kelleher, Carmel Cahill, Thomas Lynch, Denis Doona, Eileen O Callaghan, Donal O Riordan, Paul O Rourke, Noreen Murphy & Ann Murphy (in no particular order).
July 2019
Daniel O Donoghue from Spa, Killarney picking up his keys from Karena McCarthy, Marketing Officer, Killarney Credit Union.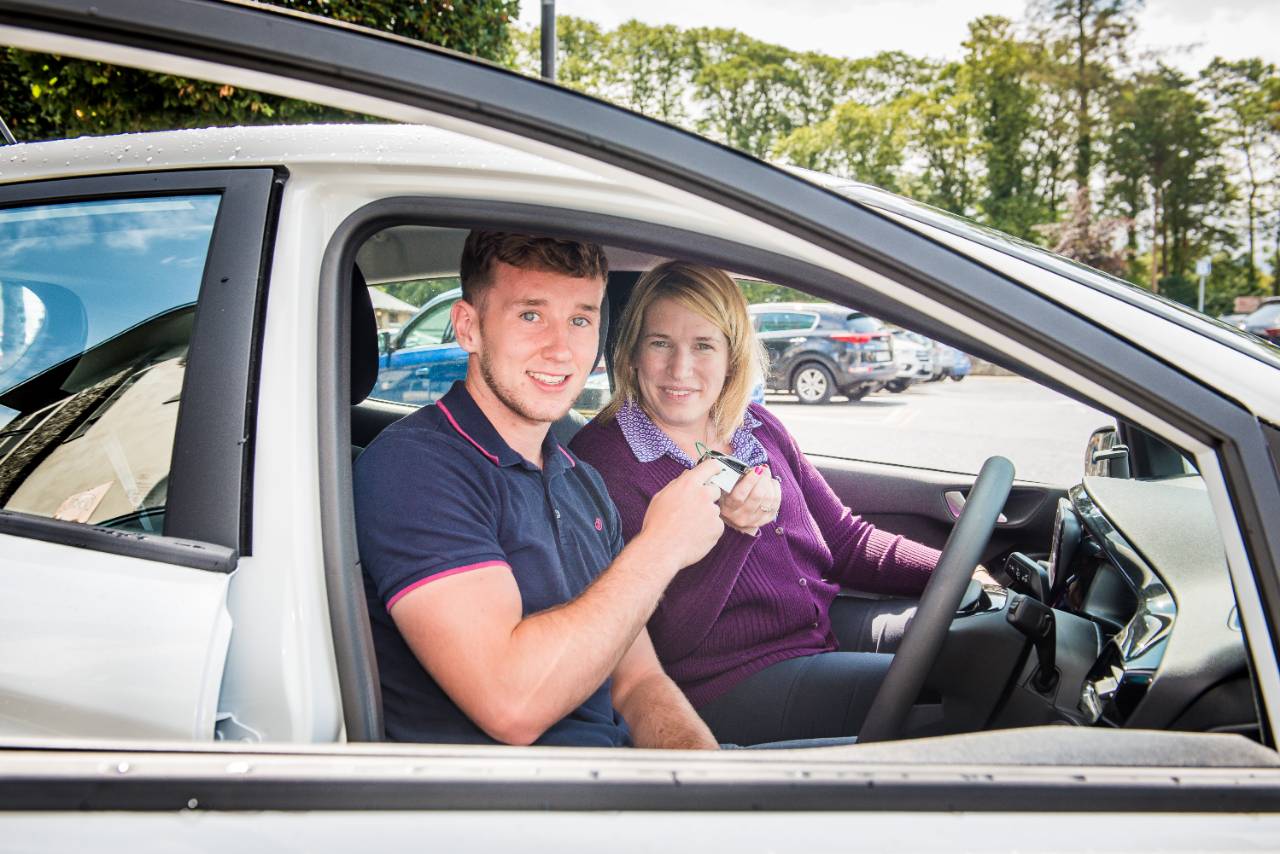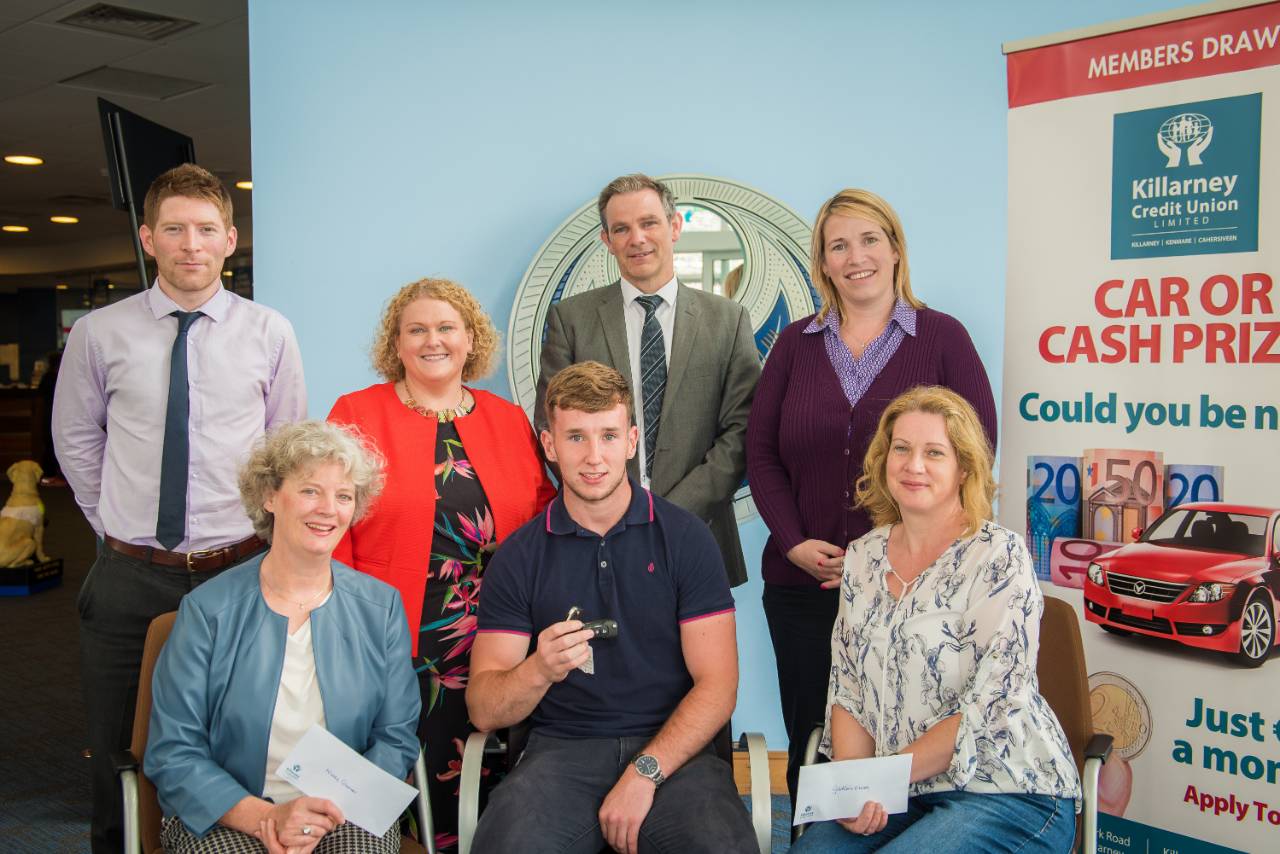 The 14 cash prize winners (in no particular order) were Niall O'Riordan, John Burke, Betty Dennehy, Ella O'Callaghan, David Piggot, Maura Maher, Mary Flynn, Mary Coleman, Ted O'Shea, Geraldine O'Leary, Mary O'Leary, Ann Maria O Neill Hayes, Emma Dennehy & Susan Collett.
Jan 2019
Sheila O Leary from Glenflesk, who won a new Suzuki collecting her keys from Mark Murphy, CEO.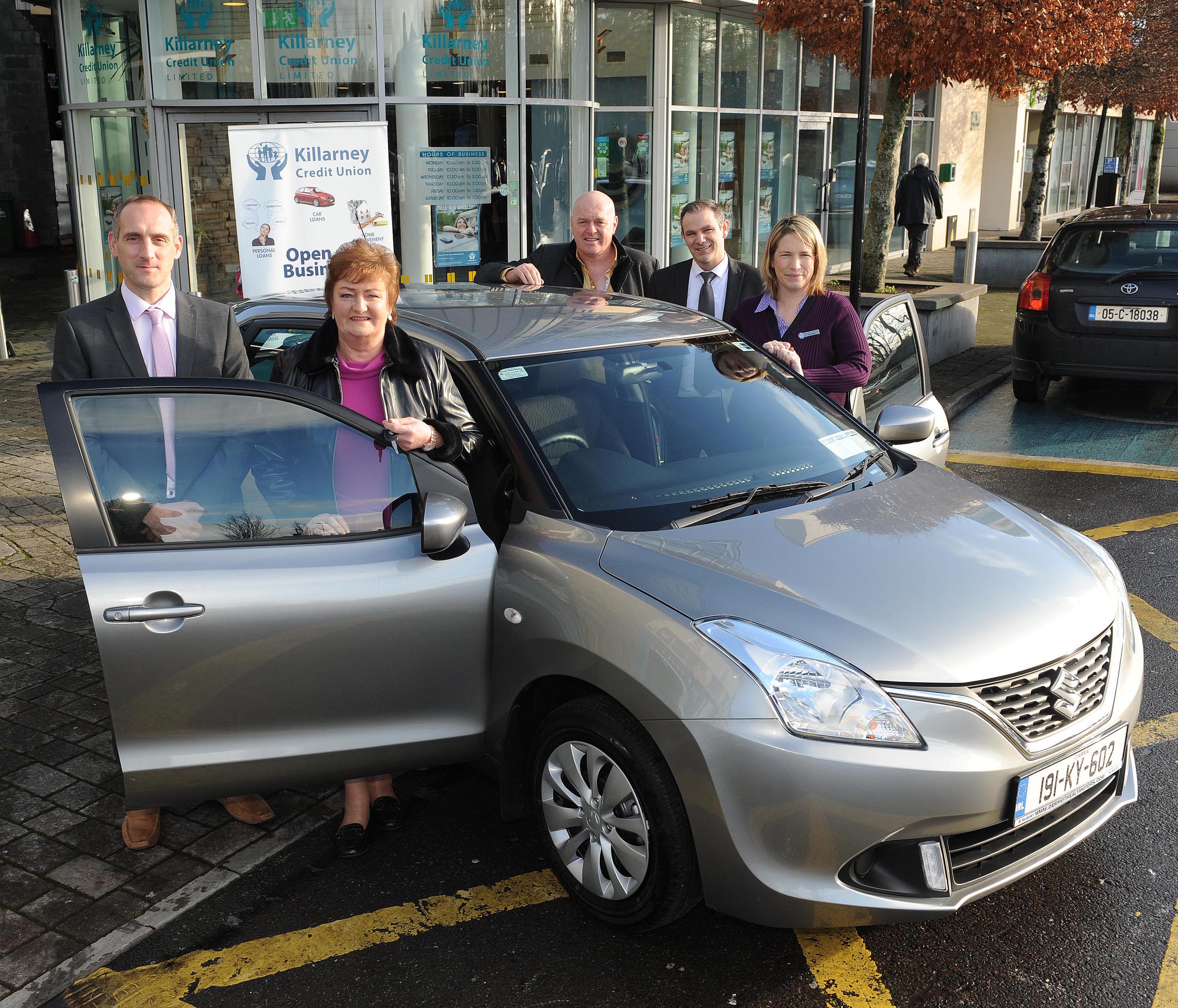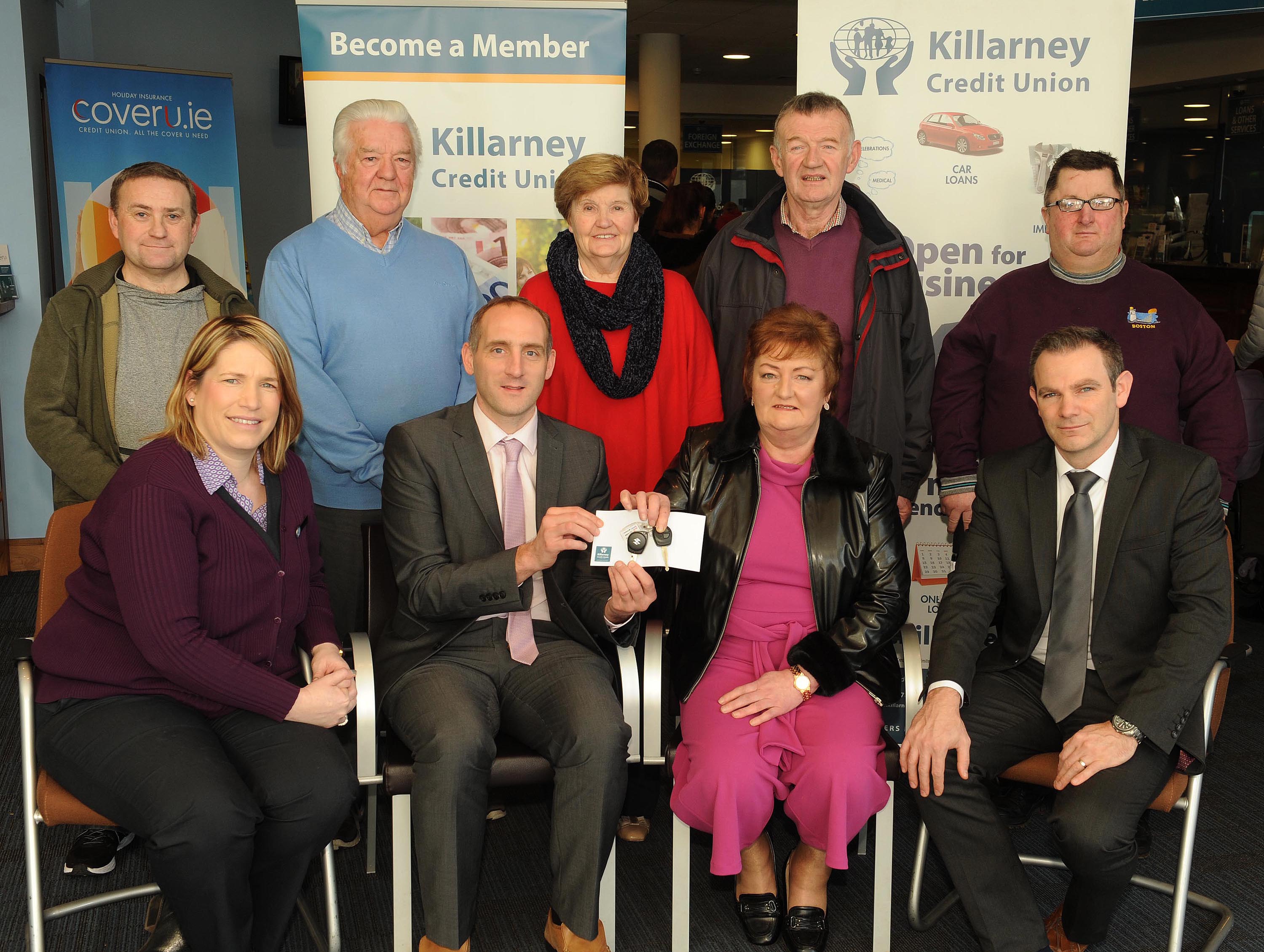 The cash prize winners were Niamh Purcell, Bernie Nolan, John Allman, Patrick Doyle, Samuel Leech, Donal Bowler, William Farrell, Margaret Galvin, Bernadette Murphy, John O Sullivan, Grace Fitzgerald, Timothy Cronin, David Jennings, Eileen Buckley (in no particular order).
July 2018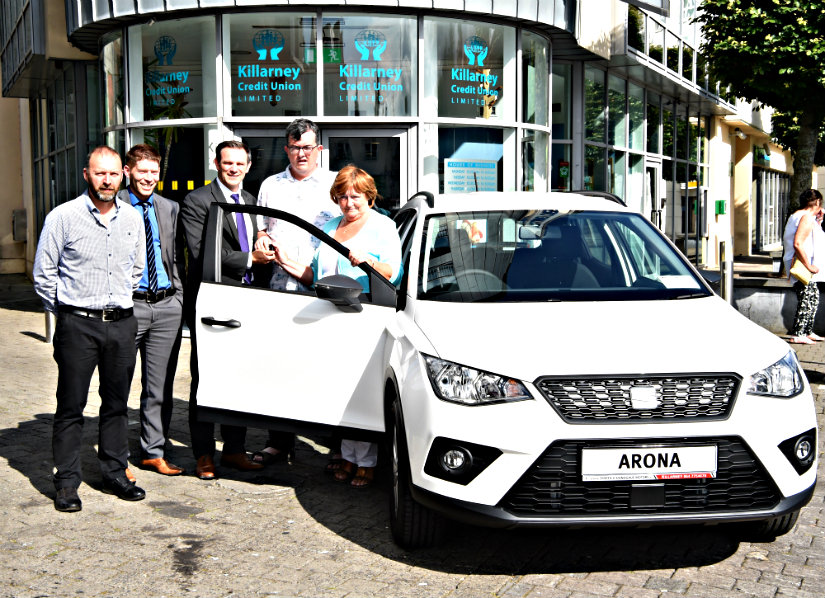 Michael and Helen O Leary from Countess Grove collecting their keys from Stephen Darmody, KCU
Cash Prize winners (in no particular order) Martina Griffin, Laura Wickam, Peter Moynihan, Margaret Griffin, Elizabeth O Mahony, John Healy, Paul Cahill, Nora O Carroll,, Thomas Punch, David Sheehan, Elaine Sugrue
January 2018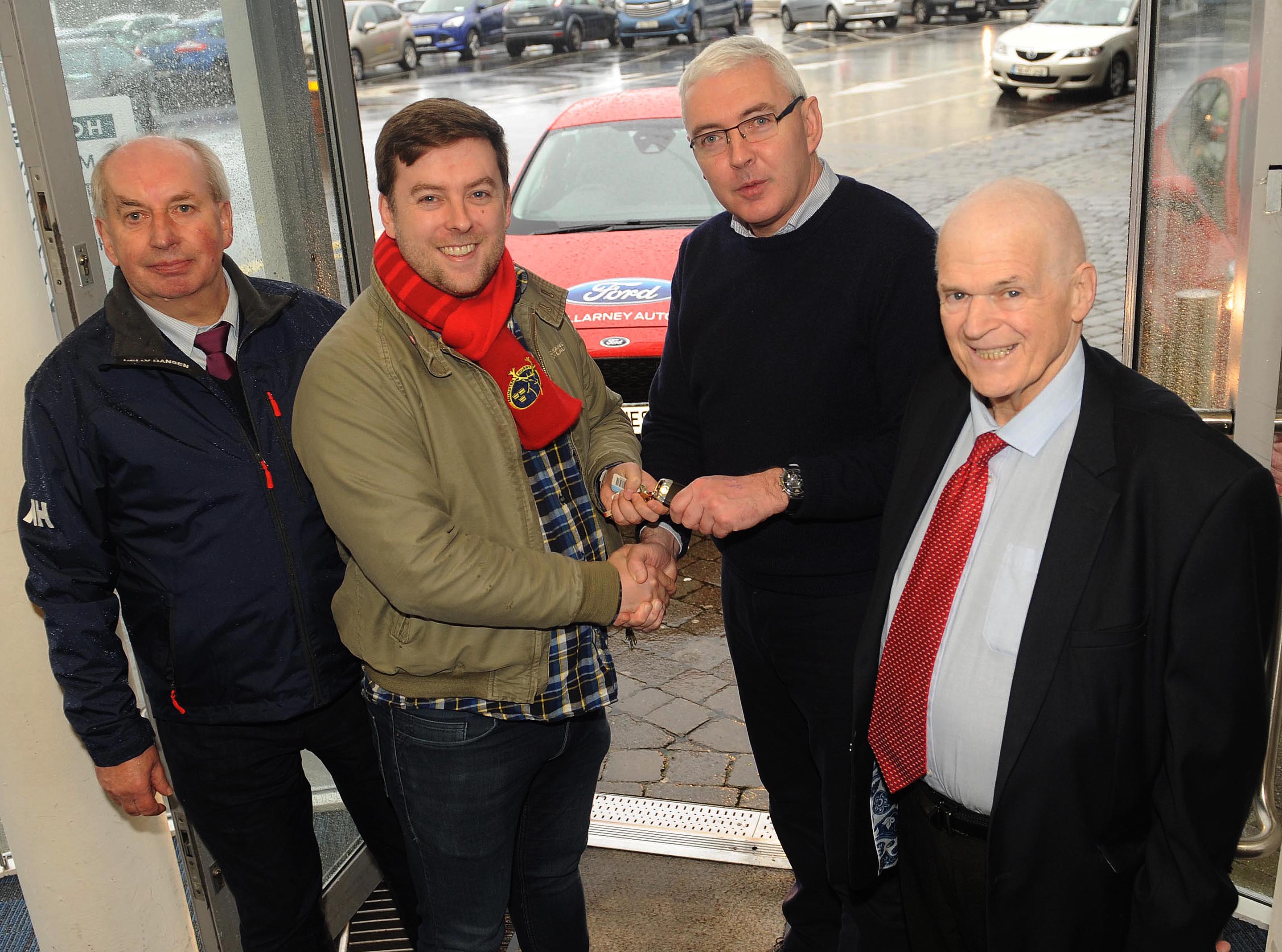 January 2018 Car Draw Winner: Ulick O Sullivan, from Farranfore.
Mary Quirke, Connie Brady, Joan Mulchinock, Tim O Sullivan, Mary Mulcahy, Noreen O Donoghue, Julia Casey, Denis Cronin, Annette Sheehan, Eileen O Shea, Olive Sheehy, Julie Payne, Mary T O Sullivan
July 2017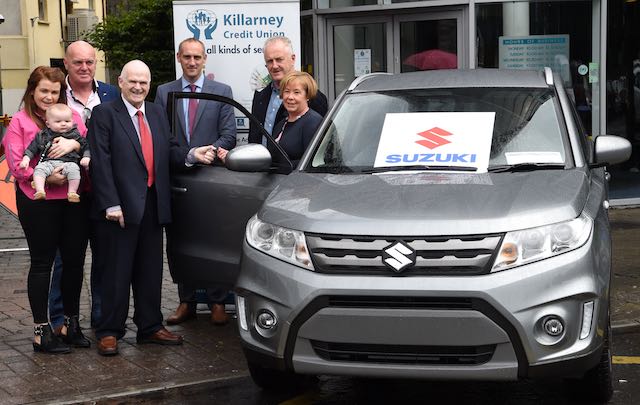 Helen Brosnan - winner of the car
Cash Prize Winners -
Mary O Reilly, Margaret Culloty, Dan O Sullivan, Sean Brosnan, Mary O Donoghue, Johanna Ryan, Anthony Curtin, Cliona Hallissy, Noreen O Connor, David White, Betty McSweeney, Theresa Ferris
January 2017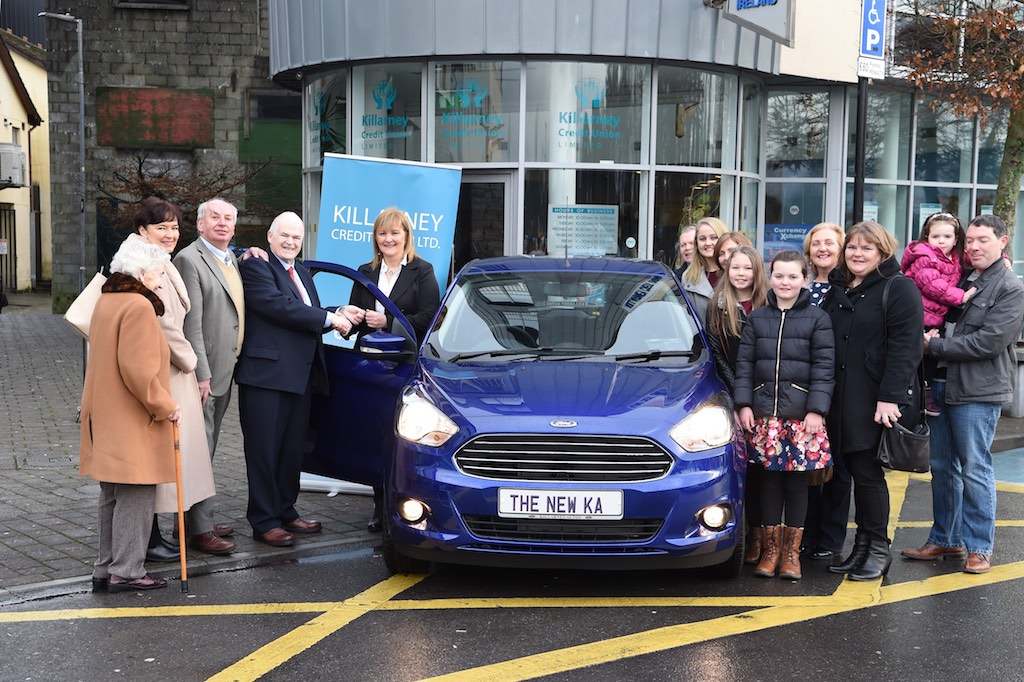 Anne Marie Cronin from Killarney, winner of the Ford Ka.
Cash Prize Winners
Brid Marie Mahony, Kathleen Hickey, Pa Sugrue, Anne O Donoghue, Kathleen Snr Bartlett, Anne O' Kane, Mary O'Connor & Colin House, Michael & Lucy Clifford, Kathleen Sullivan, Elaine Horgan, Alan Perry, Michael Lionaird Leane, Margaret Noonan, Josephine & Michael Lawlor, Marguerite Howe, Veronica McCarthy, Marie Brosnan, Frances Clifford, Billy & Rose Tangney, Helena Buckley, Nora Morton, Judy Ryan, Deirdre Leahy, Mary Horgan, Mary Brosnan & Geraldine O'Mahony, Maureen Broderick, Martin Brosnan, Zden Korova, Breda Moran
July 2016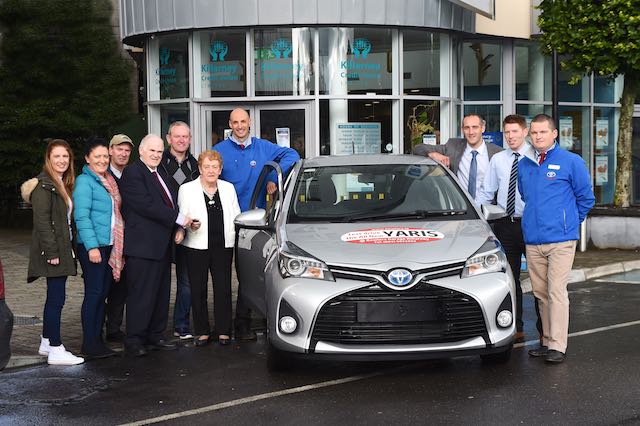 Well done to Nora Kelliher, winner of the Toyota Yaris.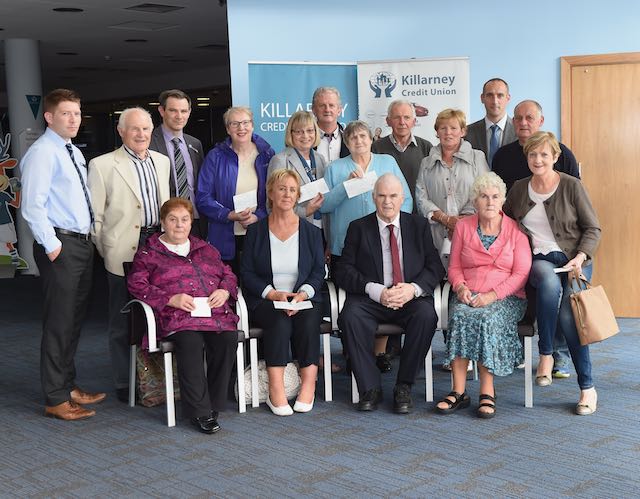 Well done to our 2016 June Winners.
Cash prize winners:
Michelle Costello, Donal McCarthy, Rita Barron, Theresa Binns, John P Knightly, Patricia O'Neill, Claire Kiely, Sheila Moynihan, Maria Mangan, Mary Buckley, Margaret Duggan, Patricia O'Grady, Kathleen Bhuiyan, Noreen Mulcahy, Mary F O'Shea, Helen O'Sullivan, Noel Fitzpatrick, Denis Earlie, Patrick B O'Sullivan, Denise O'Regan, Martin Byrne, Tom Prendergast, Tim & Bridie Bartlett, Liam & Hanna Wharton, Noelline Coakley, Anne O'Sullivan, Dermot Daly, Marie O'Doherty, Mary Kelliher
January 2016
Congratulations to our 2016 Members Draw Winners and our lucky car draw winner.
Patrick O Connor, Killarney who won a brand new Suzuki Swift GLX from Dermot Healy Motors.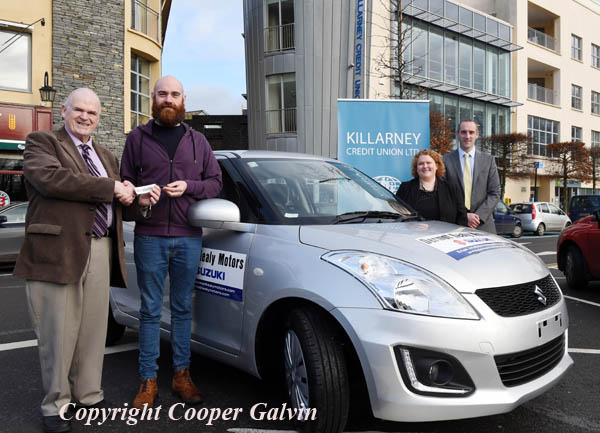 Cash Prize Winners, John Quilligan, Ballyspillane, Killarney, Eileen Doolan, Kilcummin, Killarney, Grainne O Carroll, Belleview Woods, Killarney, Olive Sheehy, Whitebridge, Killarney, Joan Spillane, Beaufort, Kathleen Cronin, Faha, Patrick Casey, Crosstown, Bridget Magnier, Kilbrean, Noreen McSweeney, Dromhall Park, Josephine Kelleher, Pinewood Estate, Killarney, Donie O Keeffe, Lissivigeen, Killarney, James O Dwyer, Castlemaine, Sheila O Mahoney, Park Road, Killarney, Sheila Madden, Fossa, Killarney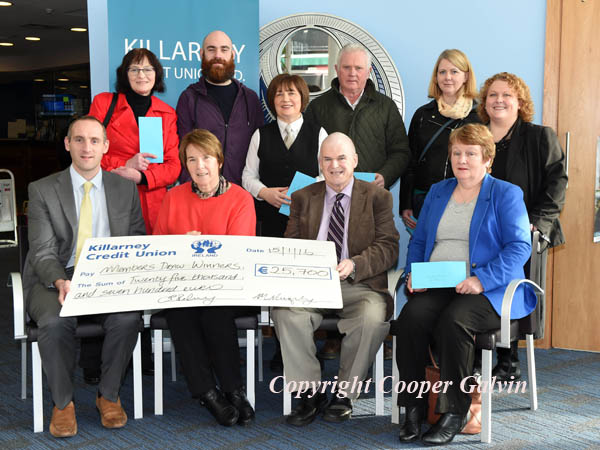 June 2015 Members Draw Car and Cash Winners