Members Car and Cash Draw
For only €2.00 per month you could drive away in a new car or win a substantial cash prize.
How do I enter the draw? Simply complete the application form and return it any of our offices for processing. Draw terms and conditions apply.
July 2019
Daniel O Donoghue from Spa, Killarney picking up his keys from Karena McCarthy, Marketing Officer, Killarney Credit Union.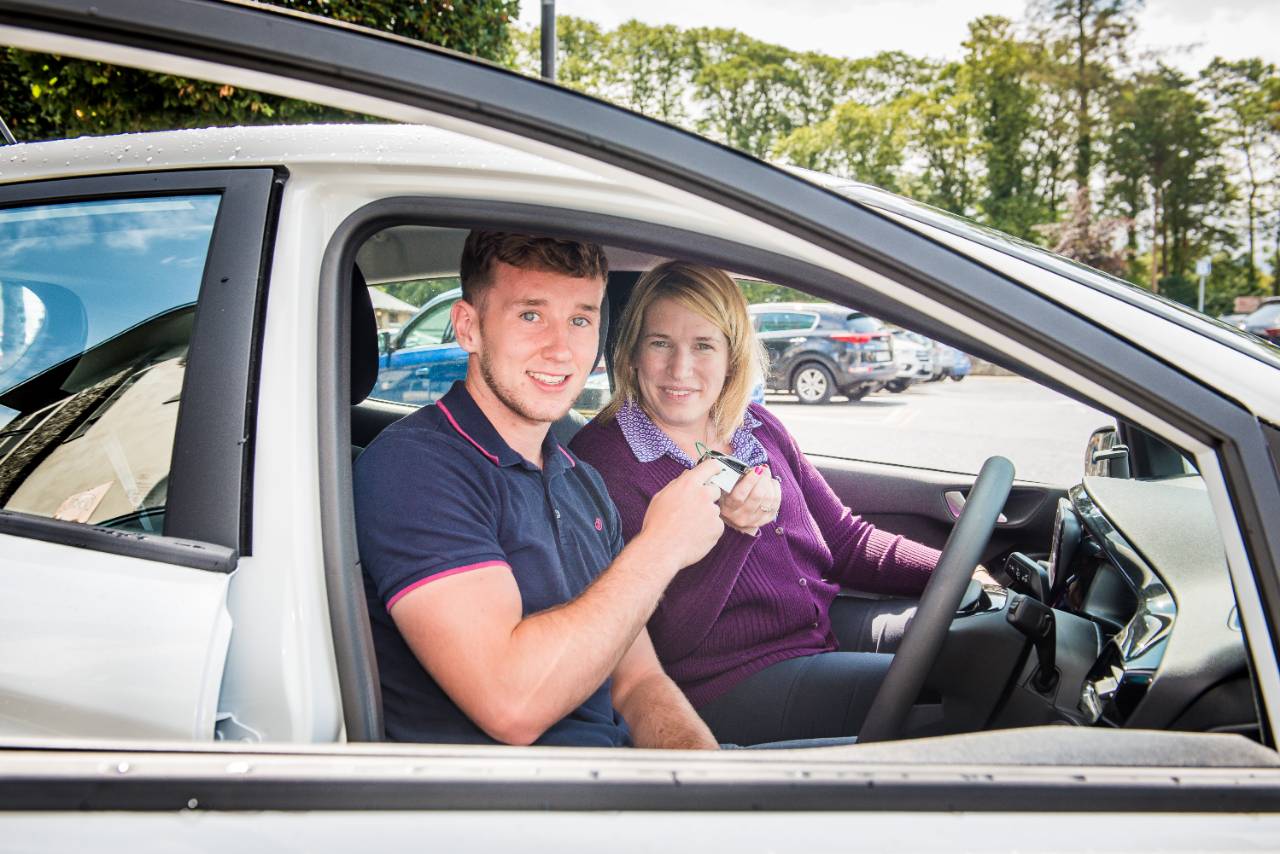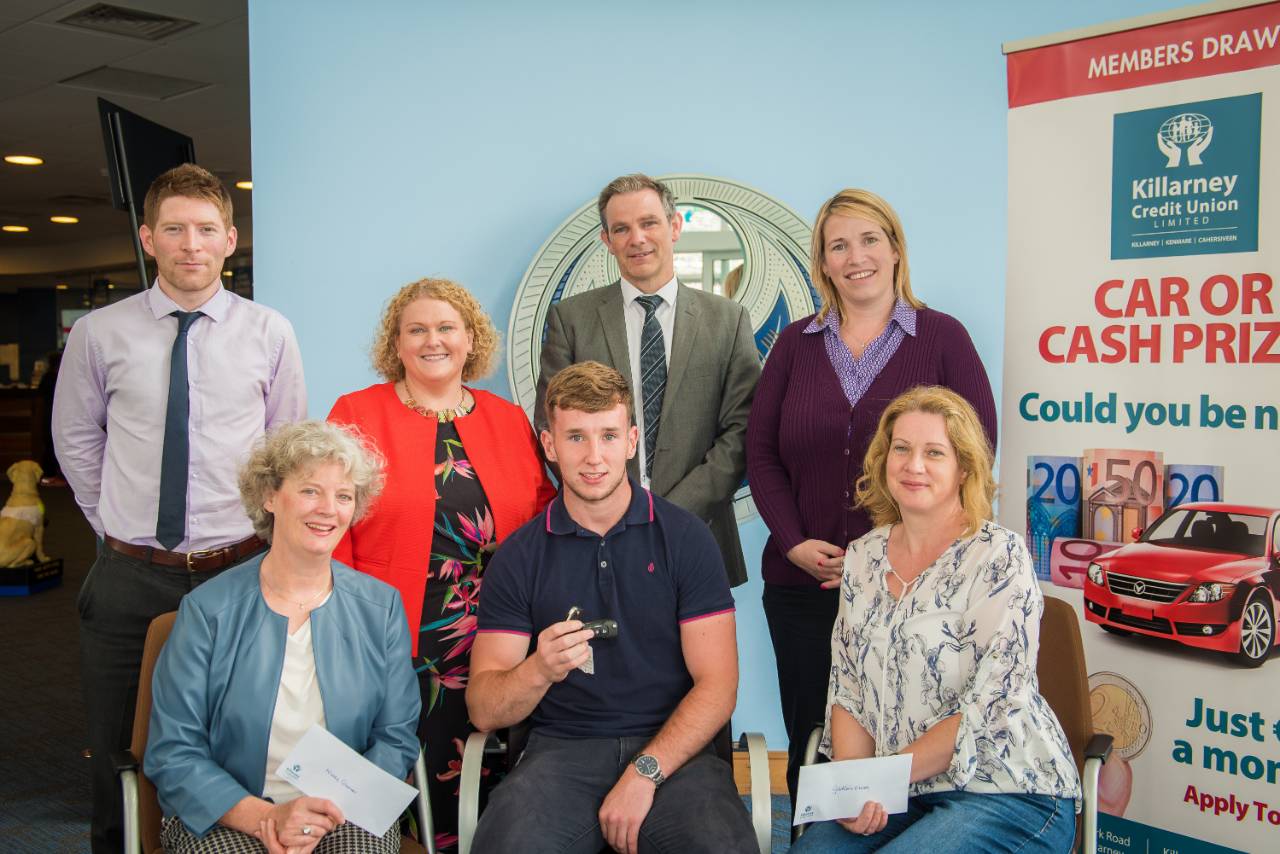 The 14 cash prize winners (in no particular order) were Niall O'Riordan, John Burke, Betty Dennehy, Ella O'Callaghan, David Piggot, Maura Maher, Mary Flynn, Mary Coleman, Ted O'Shea, Geraldine O'Leary, Mary O'Leary, Ann Maria O Neill Hayes, Emma Dennehy & Susan Collett.
Jan 2019
Sheila O Leary from Glenflesk, who won a new Suzuki collecting her keys from Mark Murphy, CEO.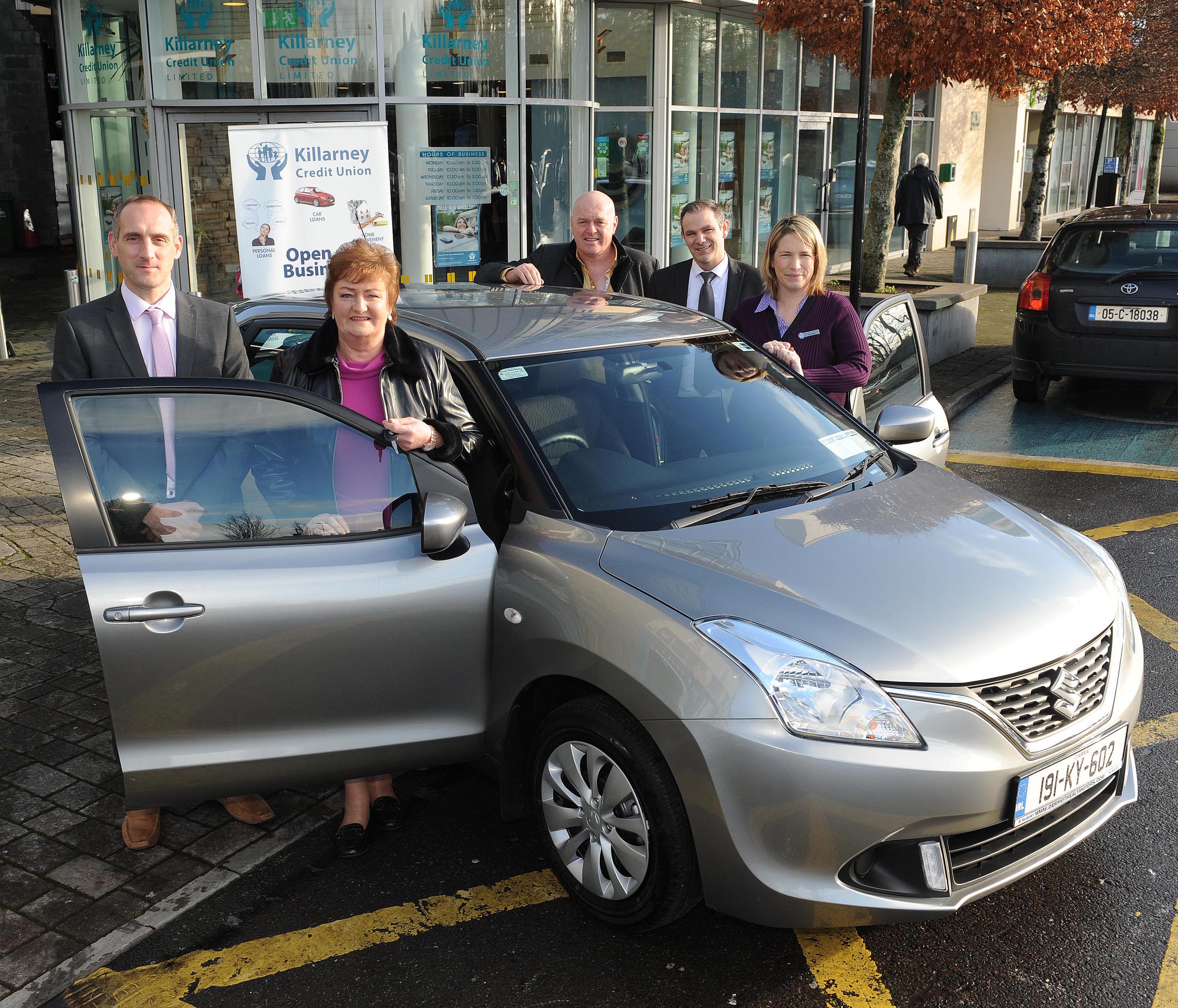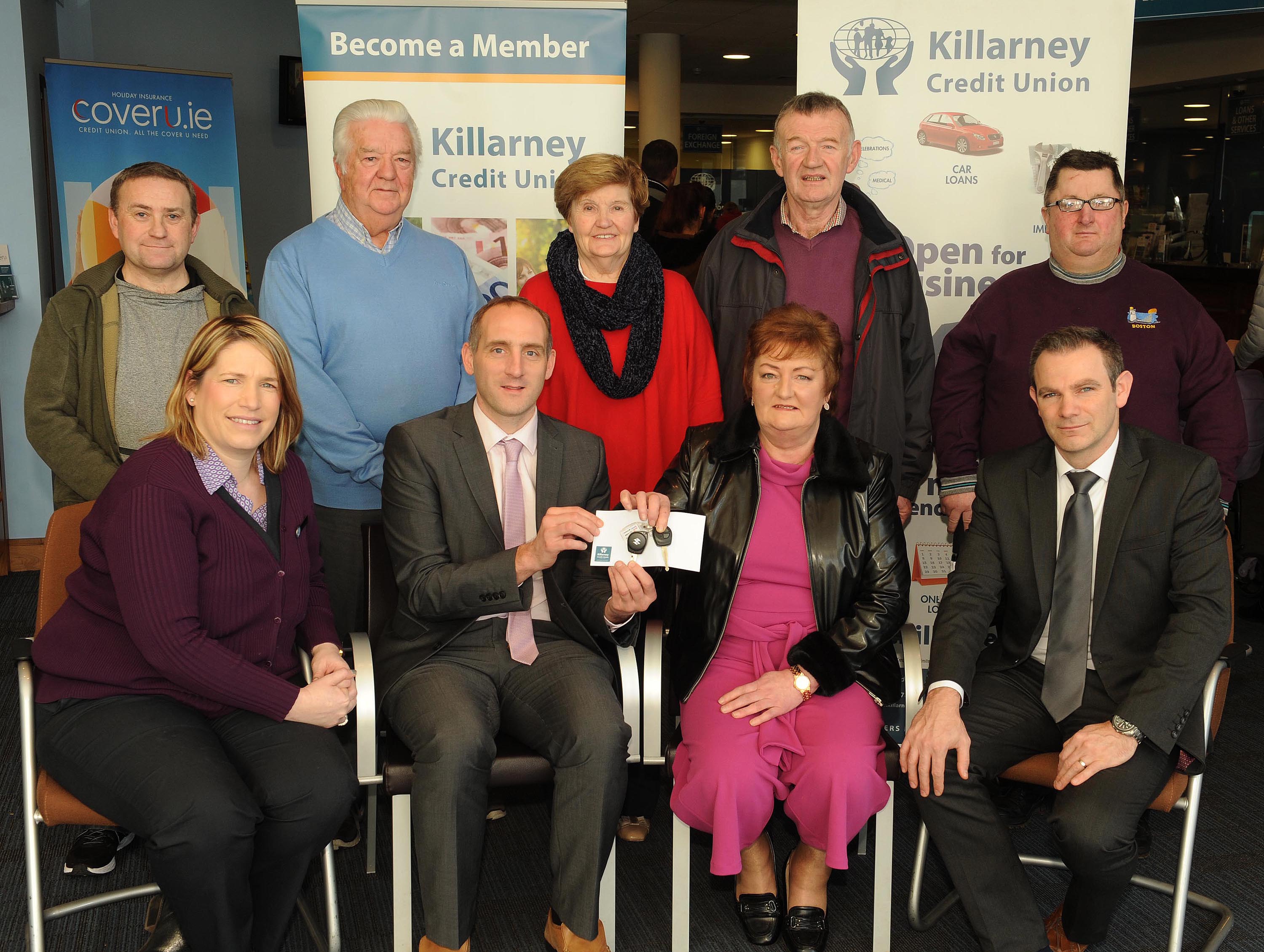 The cash prize winners were Niamh Purcell, Bernie Nolan, John Allman, Patrick Doyle, Samuel Leech, Donal Bowler, William Farrell, Margaret Galvin, Bernadette Murphy, John O Sullivan, Grace Fitzgerald, Timothy Cronin, David Jennings, Eileen Buckley (in no particular order).
July 2018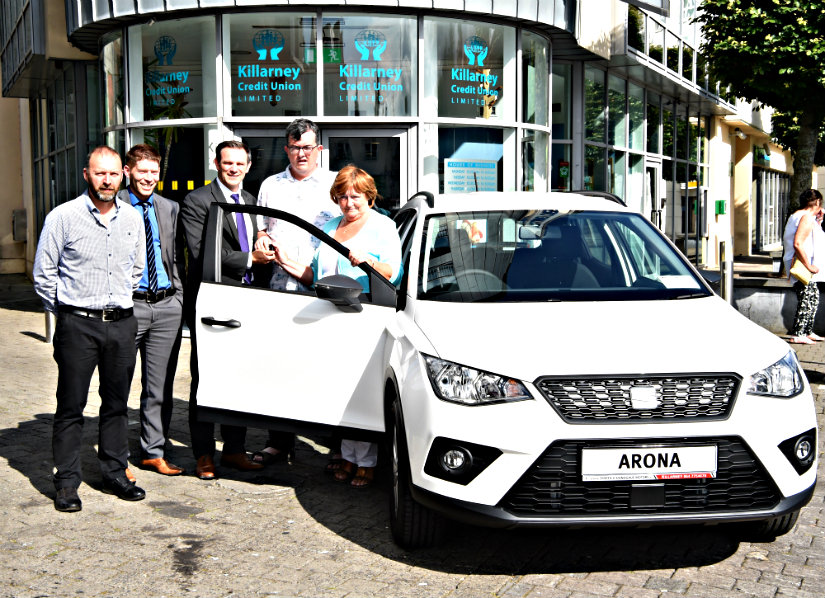 Michael and Helen O Leary from Countess Grove collecting their keys from Stephen Darmody, KCU
Cash Prize winners (in no particular order) Martina Griffin, Laura Wickam, Peter Moynihan, Margaret Griffin, Elizabeth O Mahony, John Healy, Paul Cahill, Nora O Carroll,, Thomas Punch, David Sheehan, Elaine Sugrue
January 2018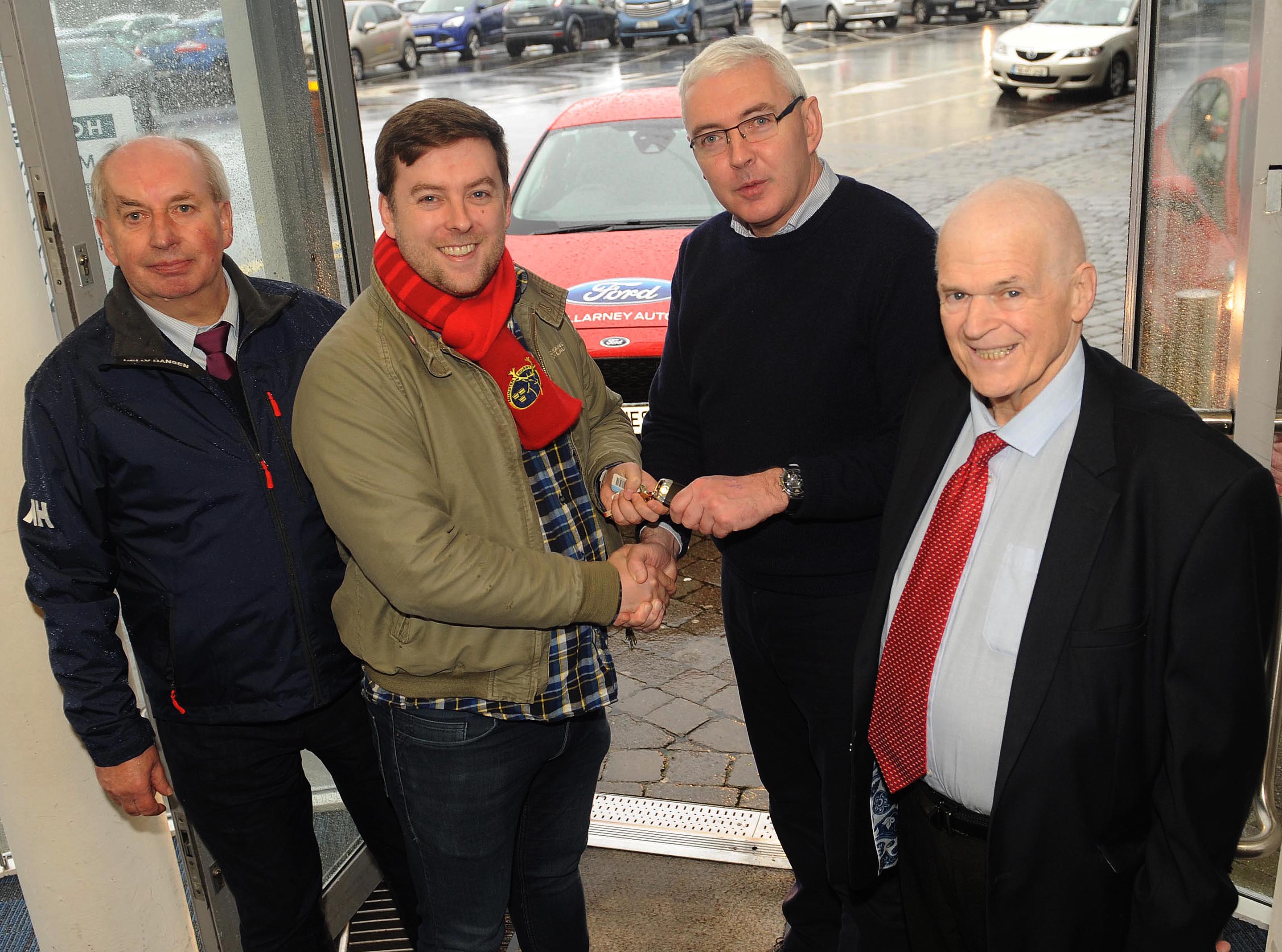 January 2018 Car Draw Winner: Ulick O Sullivan, from Farranfore.
Mary Quirke, Connie Brady, Joan Mulchinock, Tim O Sullivan, Mary Mulcahy, Noreen O Donoghue, Julia Casey, Denis Cronin, Annette Sheehan, Eileen O Shea, Olive Sheehy, Julie Payne, Mary T O Sullivan
July 2017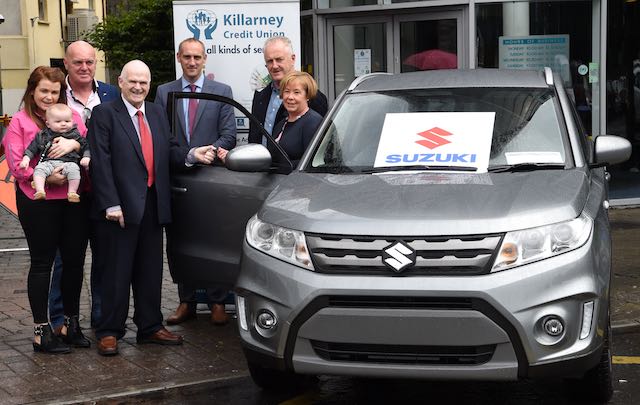 Helen Brosnan - winner of the car
Cash Prize Winners -
Mary O Reilly, Margaret Culloty, Dan O Sullivan, Sean Brosnan, Mary O Donoghue, Johanna Ryan, Anthony Curtin, Cliona Hallissy, Noreen O Connor, David White, Betty McSweeney, Theresa Ferris
January 2017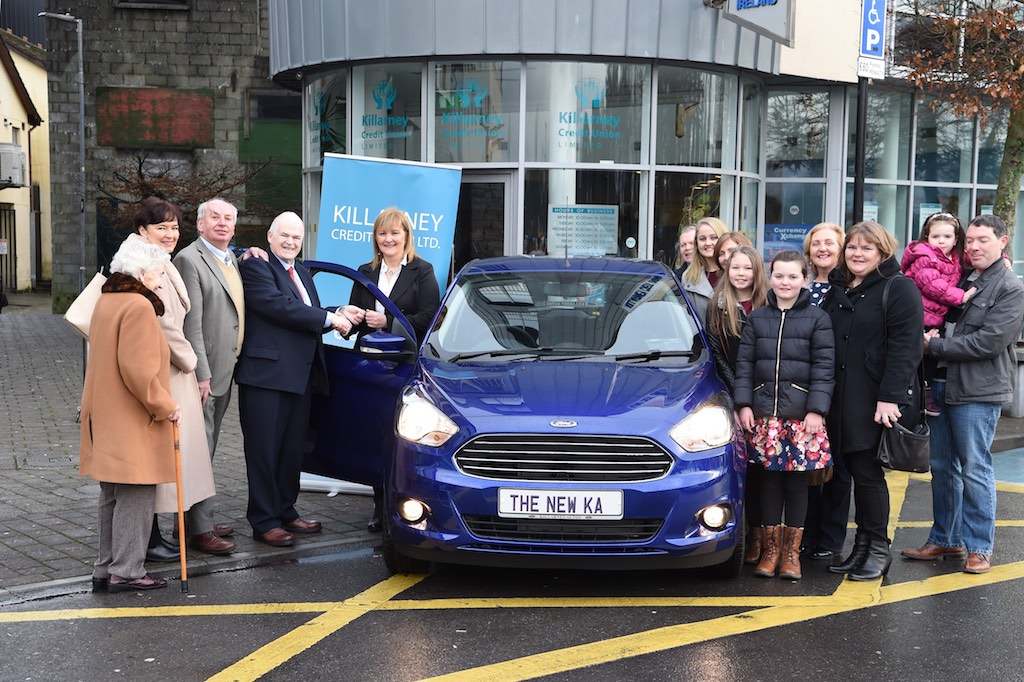 Anne Marie Cronin from Killarney, winner of the Ford Ka.
Cash Prize Winners
Brid Marie Mahony, Kathleen Hickey, Pa Sugrue, Anne O Donoghue, Kathleen Snr Bartlett, Anne O' Kane, Mary O'Connor & Colin House, Michael & Lucy Clifford, Kathleen Sullivan, Elaine Horgan, Alan Perry, Michael Lionaird Leane, Margaret Noonan, Josephine & Michael Lawlor, Marguerite Howe, Veronica McCarthy, Marie Brosnan, Frances Clifford, Billy & Rose Tangney, Helena Buckley, Nora Morton, Judy Ryan, Deirdre Leahy, Mary Horgan, Mary Brosnan & Geraldine O'Mahony, Maureen Broderick, Martin Brosnan, Zden Korova, Breda Moran
July 2016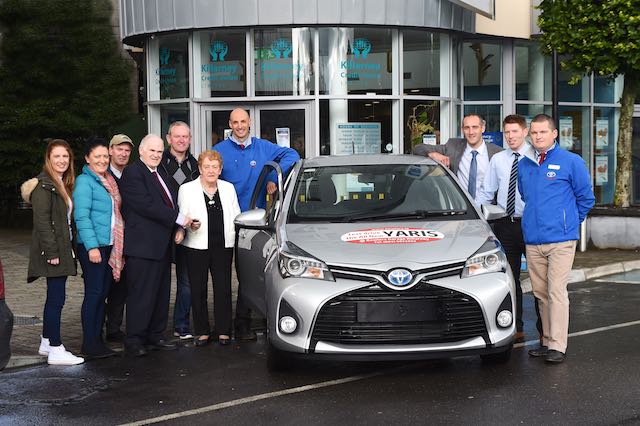 Well done to Nora Kelliher, winner of the Toyota Yaris.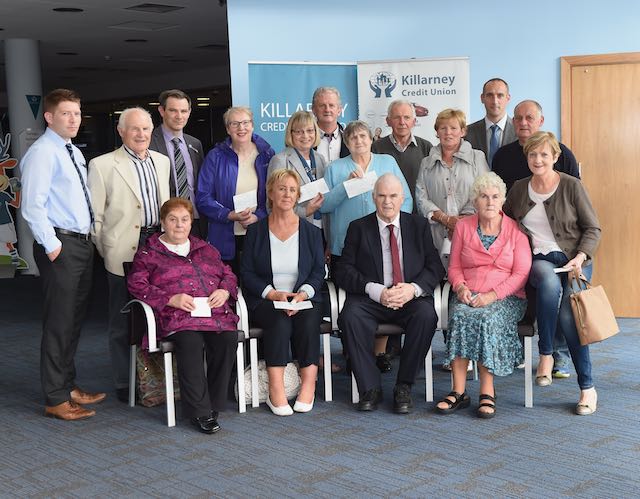 Well done to our 2016 June Winners.
Cash prize winners:
Michelle Costello, Donal McCarthy, Rita Barron, Theresa Binns, John P Knightly, Patricia O'Neill, Claire Kiely, Sheila Moynihan, Maria Mangan, Mary Buckley, Margaret Duggan, Patricia O'Grady, Kathleen Bhuiyan, Noreen Mulcahy, Mary F O'Shea, Helen O'Sullivan, Noel Fitzpatrick, Denis Earlie, Patrick B O'Sullivan, Denise O'Regan, Martin Byrne, Tom Prendergast, Tim & Bridie Bartlett, Liam & Hanna Wharton, Noelline Coakley, Anne O'Sullivan, Dermot Daly, Marie O'Doherty, Mary Kelliher
January 2016
Congratulations to our 2016 Members Draw Winners and our lucky car draw winner.
Patrick O Connor, Killarney who won a brand new Suzuki Swift GLX from Dermot Healy Motors.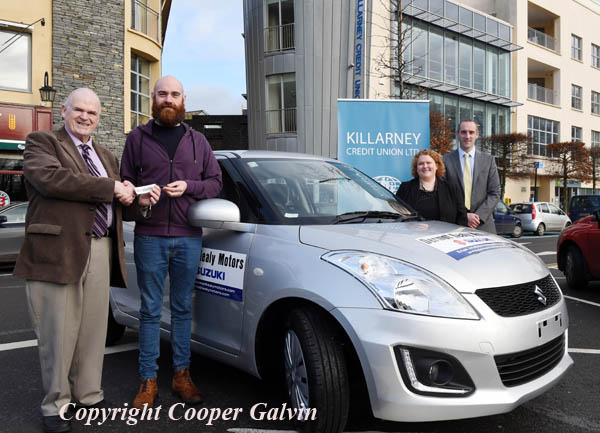 Cash Prize Winners, John Quilligan, Ballyspillane, Killarney, Eileen Doolan, Kilcummin, Killarney, Grainne O Carroll, Belleview Woods, Killarney, Olive Sheehy, Whitebridge, Killarney, Joan Spillane, Beaufort, Kathleen Cronin, Faha, Patrick Casey, Crosstown, Bridget Magnier, Kilbrean, Noreen McSweeney, Dromhall Park, Josephine Kelleher, Pinewood Estate, Killarney, Donie O Keeffe, Lissivigeen, Killarney, James O Dwyer, Castlemaine, Sheila O Mahoney, Park Road, Killarney, Sheila Madden, Fossa, Killarney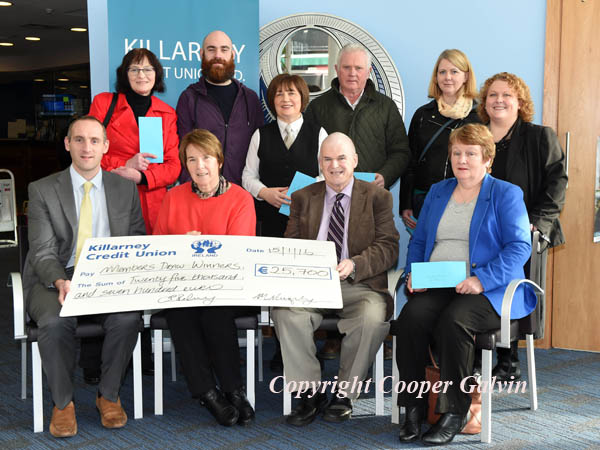 June 2015 Members Draw Car and Cash Winners