€25,000 windfall for winners in Killarney Credit Union members draw
A delighted Ulick O Sullivan, a native of Farranfore got a surprise call last week when he was notified that he had won a brand new car in the Killarney Credit Union members draw.
Ulick who is now resident in Dublin collected a brand new Ford Fiesta from Pat Sheehan, Board Chairman at a prize giving ceremony at the credit union on Saturday 20th January.
Speaking about the members draw, Karena McCarthy, Killarney Credit Union Marketing Officer stated "we currently have over 2,500 members in the draw which is held twice a year. This year our prizes included a new car and prizes ranging from €250 to €1,000 cash, our next draw will take place in July 2018" she concluded.
Members can apply for the members draw at any of the branches or download an application form online www.killarneycu.ie. €12 will be taken from your account twice a year as an entry fee for the members draw.
The cash prize winners were Mary Quirke, Connie Brady, Joan Mulchinock, Tim O Sullivan,
Mary Mulcahy, Noreen O Donoghue, Julia Casey, Denis Cronin , Annette Sheehan, Eileen O Shea, Olive Sheehy, Julie Payne, Mary T O Sullivan.
Karena added "The draw is limited to members of Killarney Credit Union and anyone over the age of 18 can apply to join, so we would encourage members to sign up, if they haven't already, as the saying goes, if you're not in, you can't win" she concluded.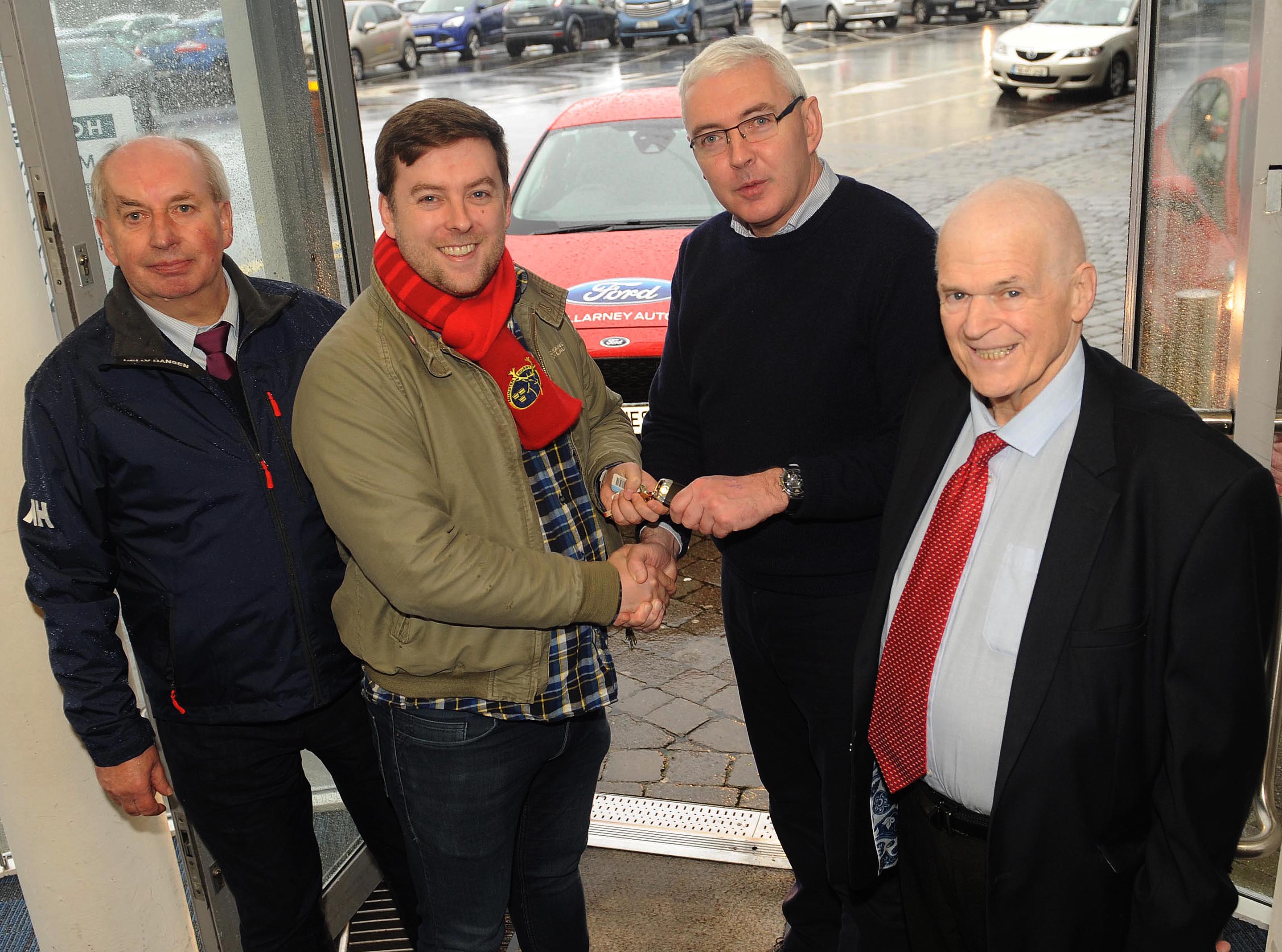 Killarney Credit Union Chairman Pat Sheehan, left, presents the keys of a new Ford Fiesta car to Ulick O' Sullivan, Farranfore, winner of the Killarney Credit Union Members Car Draw. Also included on right are Pat Delaney, Killarney Credit Union and Dermot Moriarty, Killarney Autos
At the presentation of the Killarney Credit Union members draw cash prizes were front from left, Killarney Credit Union Chairman Pat Sheehan, Mary Quirke and Pat Delaney Killarney Credit Union. Back from left are Mary T O'Sullivan, Connie Brady, Annette Sheehan, Tim O'Sullivan, Joan Mulchinock, Denis Cronin and Julie Payne
If you want to join the members draw, complete form and return to the credit union