32 winners in Killarney Credit Union members draw
32 lucky members of Killarney Credit Union received a welcome boost this week when they were selected as winners of the twice yearly members draw. In total, over €26,000 was given out which included a brand new Toyota Yaris which was won by a Killarney town local woman, Ann Marie Cronin from Cahernane Meadows who was delighted with her win.
Speaking about the members draw, Karena McCarthy, Killarney Credit Union Marketing Officer stated "we currently have over 2,500 members in the draw which is held twice a year. This year our prizes include a new car and cash prizes ranging from €175 to €1,500 cash, our next draw will take place during the summer" she concluded.
Members can apply for the members draw at any of the branches or download an application form online www.killarneycu.ie. €12 will be taken from your account twice a year as an entry fee for the members draw.
The winners were:
Brid Marie Mahony, Kathleen Hickey, Pa Sugrue, Anne O Donoghue, Kathleen Snr Bartlett, Anne O' Kane, Mary O'Connor & Colin House, Michael & Lucy Clifford, Kathleen Sullivan, Elaine Horgan, Alan Perry, Michael Lionaird Leane, Margaret Noonan, Josephine & Michael Lawlor, Marguerite Howe, Veronica McCarthy, Marie Brosnan, Frances Clifford, Billy & Rose Tangney, Helena Buckley, Nora Morton, Judy Ryan, Deirdre Leahy, Mary Horgan, Mary Brosnan & Geraldine O'Mahony, Maureen Broderick, Martin Brosnan, Zden Korova, Breda Moran
Karena added "the draw is limited to members of Killarney Credit Union and anyone over the age of 18 can apply to join, so we would encourage members to sign up, if they haven't already, as the saying goes, if you're not in, you can't win" she concluded.
Ann Marie Cronin recieving keys from Pat Delaney, Chairman, Killarney Credit Union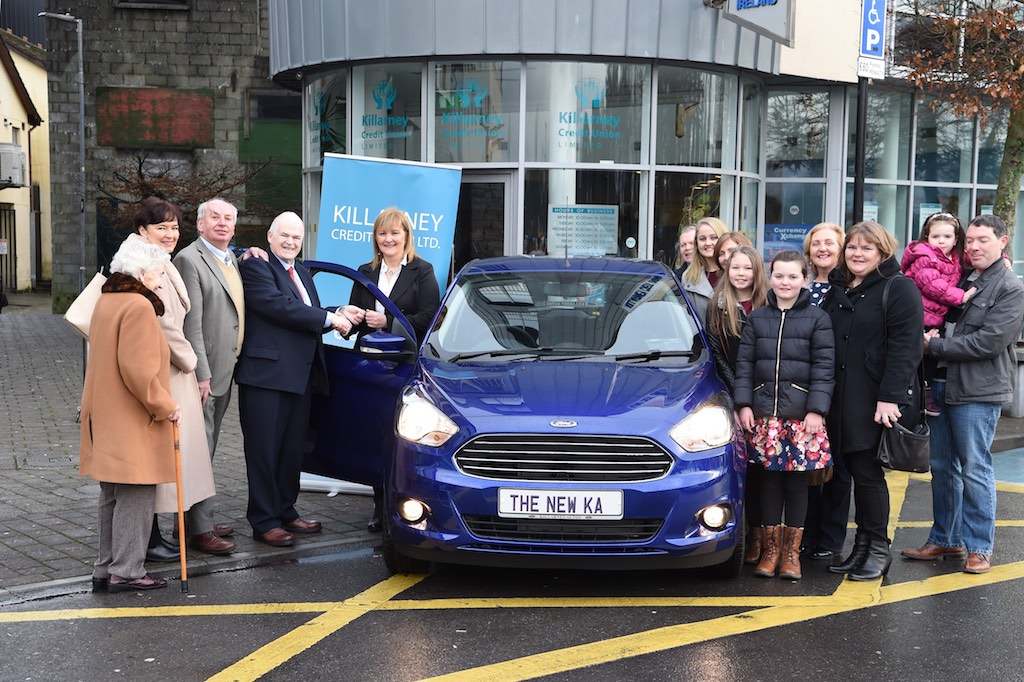 To apply to join the car draw , complete form and return to the credit union.