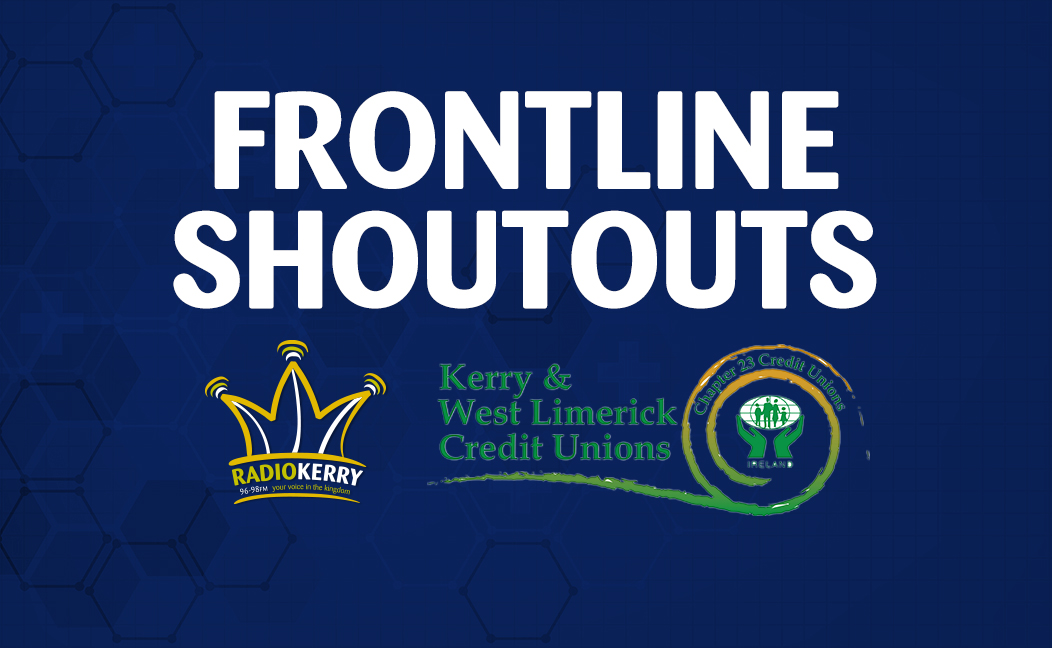 If you'd like to share a message of support on Radio Kerry Frontline Shoutouts to someone working on the frontline, WhatsApp it to 083 300 3 300, email This email address is being protected from spambots. You need JavaScript enabled to view it. or call 066 7123666.
The family of a hospital porter who risks his life everyday say he is their hero, Aldi workers uplift customers with smiles on their faces, an unwavering humour. These are just some of the acknowledgements from the 'Frontline Shout-Outs' show on Radio Kerry – a new slot which shares poignant messages to the those at the frontline of the pandemic.
The show, broadcast 9am and 3pm daily, is supported by a group of Kerry & West Limerick Credit Unions who recognised its importance in supporting and uplifting the community – a value also shared by credit unions nationwide.
Chair of the Marketing Committee for Chapter 23 ( Kerry and West-Limerick Group of Credit Unions), Helen Courtney-Power said: 'As credit unions are embedded within in the community, and an essential service working on the frontline to remain open for members, we knew it was the right fit, to back the show.'
'Right now, our message to the public has been 'We're Here to Help' – just as other front-line workers across healthcare and retail and other industries, are helping everyday. This show embraces and supports their work, and really aligns with what credit unions are doing.'
So far, Front-line Shout-Outs has had a large wave of respondents wanting to broadcast messages of gratitude to loved ones or workers within their locality. Chapter 23 Credit Union comprises of Cara Credit Union, Killarney Credit Union, Clanmaurice Credit Union, Rathmore & District Credit Union, Listowel Credit Union, Abbeyfeale Credit Union, and Comhar Chreidmheasa Chorca Dhuibhne Teoranta / Dingle Credit Union who are supporting the show for the next few weeks.