The habit of saving is best started early. So if you're under 16 and would like to start saving or you're a parent/guardian and would like to start for someone, we have a special option for you.
At Killarney Credit Union we actively encourage children to save. We offer a wide range of saving options for children through schools and in Killarney Credit Union.
Grandparents, parents and guardians can lodge funds to Childrens Accounts but only a parent/guardian can withdraw funds.
Child/Minor Account
Information of opening a childs account please click here
If you wish to open an account for your child, please bring all documentation into any of the branches.
New Born Accounts
All new born accounts opened, get a free €20.00 lodged to their account. So no excuse, not to join today! New born accounts are from 0-2 years of age. Account has to be kept open until the age of 7 years or the €20.00 will be withdrawn from the new born account.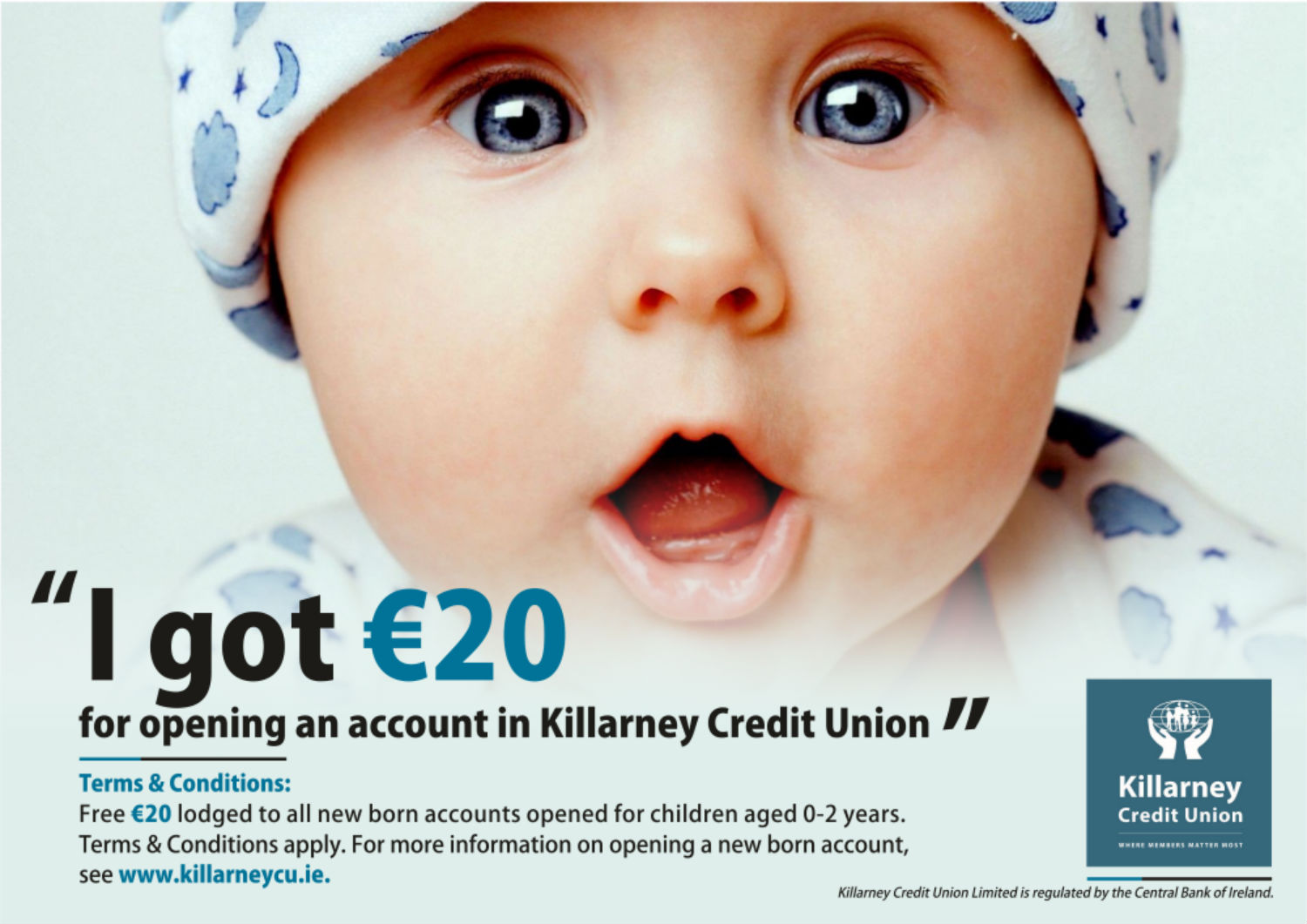 All members of Killarney Credit Union must recieve the Regulation 53 of the European Communities (Payment Services) Regulations 2009 when the become a member of the credit union. It outlines details of the credit union acccount and payment services contained therein. In addition, a Depositer Information Leaflet is to be given to members.
Schools Savings Scheme
We offer a school savings scheme in a number of schools in South Kerry. These include
Cullina N.S
Fossa N.S
Firies N.S
Coolick N.S
Kilcummin N.S
Anabla N.S
Tiernaboul N.S
Lissivigeen N.S
Gael Scoil Faithleann NS
Presentation Monastery NS
Loughquittane NS
St Olivers NS
Realt na Mara, Tuosist
Tullaha NS, Bonane
Cahir NS, Kenmare
These schools are visited regularly by CU staff and accounts are opened by staff and money collected. If you are a school and want a school savings scheme, please contact Karena in Killarney Credit Union.
Information guide on junior accounts
Click the icon below to download a PDF with further information.